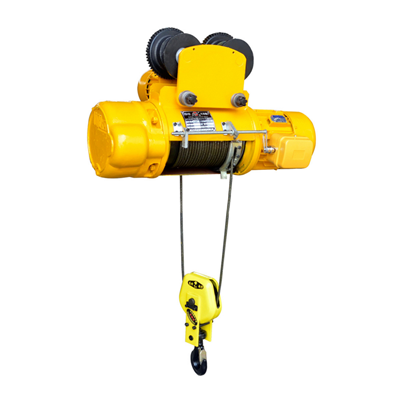 CD1 wire rope electric hoist is a light and small lifting equipment with compact structure, light weight, small size, universal parts and easy operation.
Reducer: The reducer adopts hard tooth surface transmission design, long life and high mechanical efficiency.
Motor: The motor uses a conical rotor brake motor. The motor load duration is 25%.
Motor protection: degree of protection: IP54
Insulation class: Class B
Limit: There are upper and lower two-way safety limit devices.
Push button switch: 36V safety voltage switch, according to customer needs, the hoist can be equipped with a wireless remote control.
型号

0.5T

1T

2T

3T

5T

10T

起重量 
Capacity (T)

0.5

1

2

3

5

10

标准起重高度 Lifting Height

6m

6M

6M

6M

9M

9M

Lifting speed

8m/min

运行速度 trolley speed

20m/min

钢丝绳型号 cable

6×37-4.8

6×37-7.4

6×37-11

6×37-13

6×37-15

6×37-15

工字梁轨道型号 I-steel type

16-28b

16-28b

20a-32c

20a-32c

25a-63c

28a-63c

环形轨道最小半径 Minimum radius of ring orbit(m)

1.5

1.5-4

2-4

2-4

2.5-5

3.5-9

电压(Voltage)v

380/220/440

380/220/440

380/220/440

380/220/440

380/220/440

380/220/440

相数

3

3

3

3

3

3