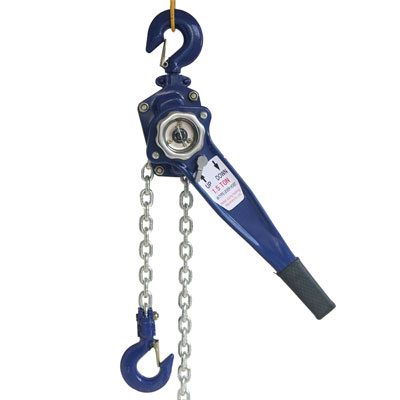 Suitable for factories, mines, construction sites, terminals, transportation, etc.
Small size, light weight and easy to operate
Equipped with high-strength alloy G80 lifting special chain
Specially treated forged hooks for high strength and long service life.
Traction at any angle. In the case of small space, open-air operation and no power supply, it shows superiority.
型号Model

VA0.75

VA1.5

VA2

VA3

VA6

起重量Capacity(ton)

0.75

1.5

2

3

6

标准起升高度
Standard Lifting height(m)

1.5

1.5

1.5

1.5

1.5

试验载荷Test load(ton)

1.13

2.25

3

4.5

9

两钩之间最小距离Min distance between hooks(mm)

325

380

380

480

620

满载手拉力
Effort required to lift max load (N)

140

220

220

320

3404

起重量直径
Diameter of load chain(mm)

6

8

8

10

10

净重Net weight(kg)

7

11

12

21

31