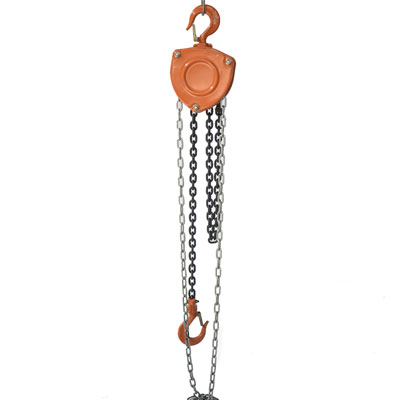 Gear: Japanese technology; innovative symmetrically arranged high-speed synchronous gear; international standard gear steel, double the wear resistance of ordinary hoist, more balanced rotation, lighter hand force.
Chain: higher strength chain; fine welding at the opposite end, after medium frequency induction quenching treatment, in line with ISO3007-1984 international standard chain technical requirements; adapt to sudden overweight work; hand chain feel good; change ordinary hoist can only pull vertically downward, can From many directions, the angle is 45°, and the adaptation range is larger.
Hook: high-strength foot hook, high-grade alloy material, so that the overloaded studio does not break, but gradually deforms, the safety factor is higher; the new design of the hook head is that the goods will not be unhooked.
Limit switch: There are limit switch parts under the hanging and hanging to prevent the chain from exceeding the safety.
Parts: slim design, novel and elegant; ergonomic, light body work activity interface is small, adapt to a wide range of environments.
Spraying: The advanced plastic spraying process, the exceptions are all molded, and the use of the watch is as new as ever.
Cover: The steel is pressed against the cover, which is both lightweight and light.
型号Model

VT-1/2

VT-1

VT-2

VT-3

VT-5

VT-10

起重量Capacity(t)

0.5

1

2

3

5

10

起升高度
Lifting Height(m)

2.5

2.5

3

3

3

3

试验载荷Test load(t)

0.75

1.5

3

4.5

7.5

15

两钩之间最小距离Hmin Headroom(mm)

285

315

380

475

600

700

满载手拉力
Chain pull to lift full load(N)

25

33

34

35

39

41

起重链数量
No. of load chain

1

1

1

2

2

4

起重链直径Diameter of load chain

6

6

8

8

10

10

净重N.W(kg)

8.4

11

21

22

40

77